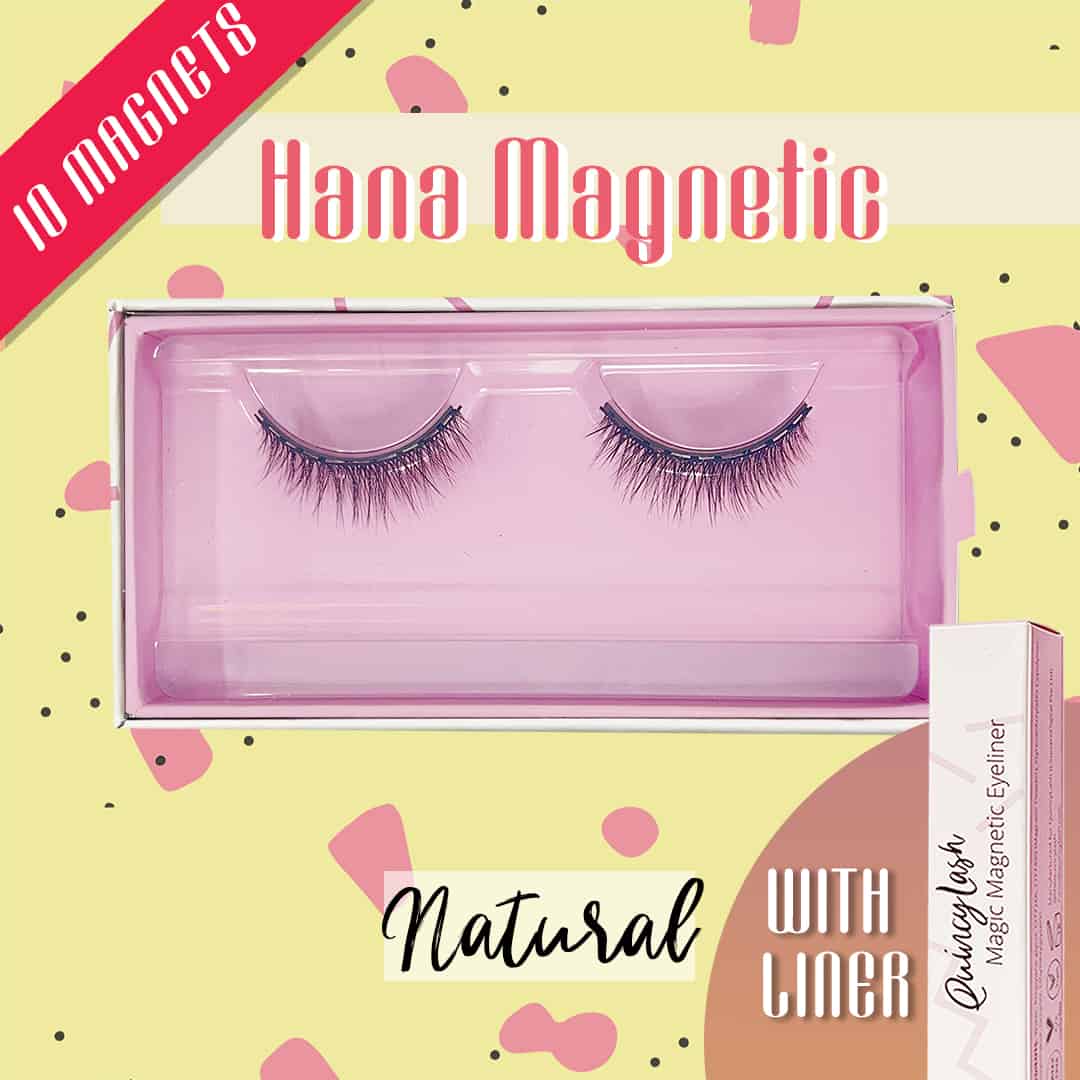 Hana Magnetic Lash
Extra Volume Rewards
More lashes, more rewards. Unlock extra discounts and exclusive gifts!
14-Day Faulty Lash Cover
Shop with confidence. Got a damaged lash? Reach out to us!
---
Description:
Want to look pretty without going overboard like a glam queen? Then Hana Magnetic is for you.

With C-Curls that visually lifts and opens your eyes. And...slight volumizing that makes your eyes appear fuller. You can wear this lash every day to work and play.

Look pretty effortlessly. Enhance your natural beauty with Hana Magnetic Lash.


Good For:
Women who wear glasses.
Every day wears to enhance and volumize your real lashes.

Details:
Length
5 - 9 mm
Curl

Visually lift and open eyes without being dramatic.

Design

Fan shape

Criss cross

Natural lash

Material
Korean silk lash

Includes:
1 pair of Hana Magnetic lash.
1 eyelash carry case.
1 Magnet Eyeliner (Lash + Liner Option only)
[NEW] Introducing Individual Lash Options
We hear you! Now, you can buy our magnetic lashes individually without the liner. Gain more control over your lash experience!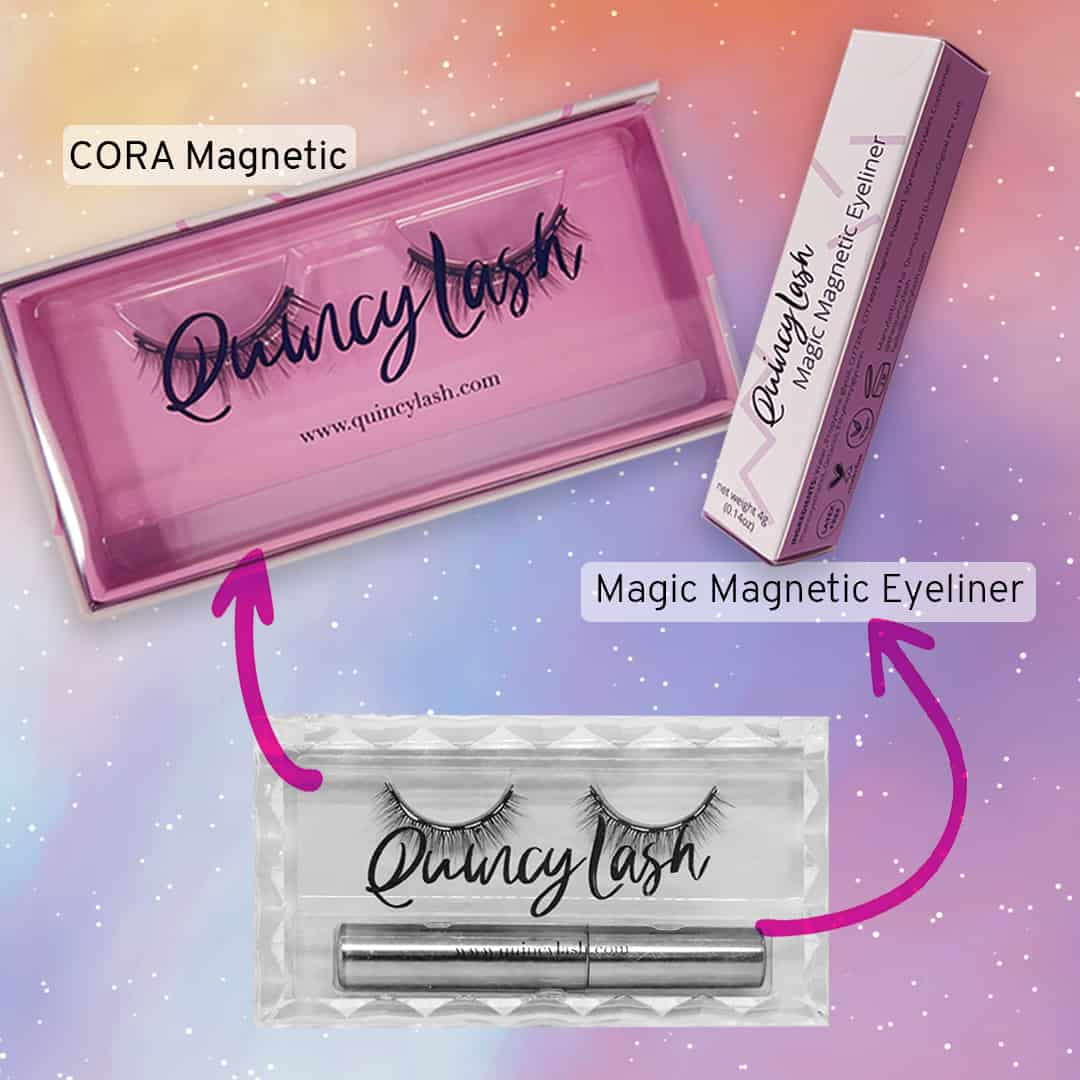 Shake magnetic eyeliner.

Apply eyeliner to lash line.

Wait 60 seconds to dry.

Snap magnetic eyelash to your eyes.
About QuincyLash Magnetic Lash

Our magnetic lashes are custom cut to fit most Asian eyes. They snap-on instead of stick, so they put on easy and quick. For first-time use, put them on in only 2 minutes or less. Subsequent use, much quicker!

Powered by 10 micro magnets, our lashes hold strong all day. They are wind, water and smudge proof. No more icky glue to deal with, no more struggle, no more mess.

They are kinder to your eyes and highly reusable too. Depending on your care, for up to x30 use. Now, beautiful false lashes are so easy and quick!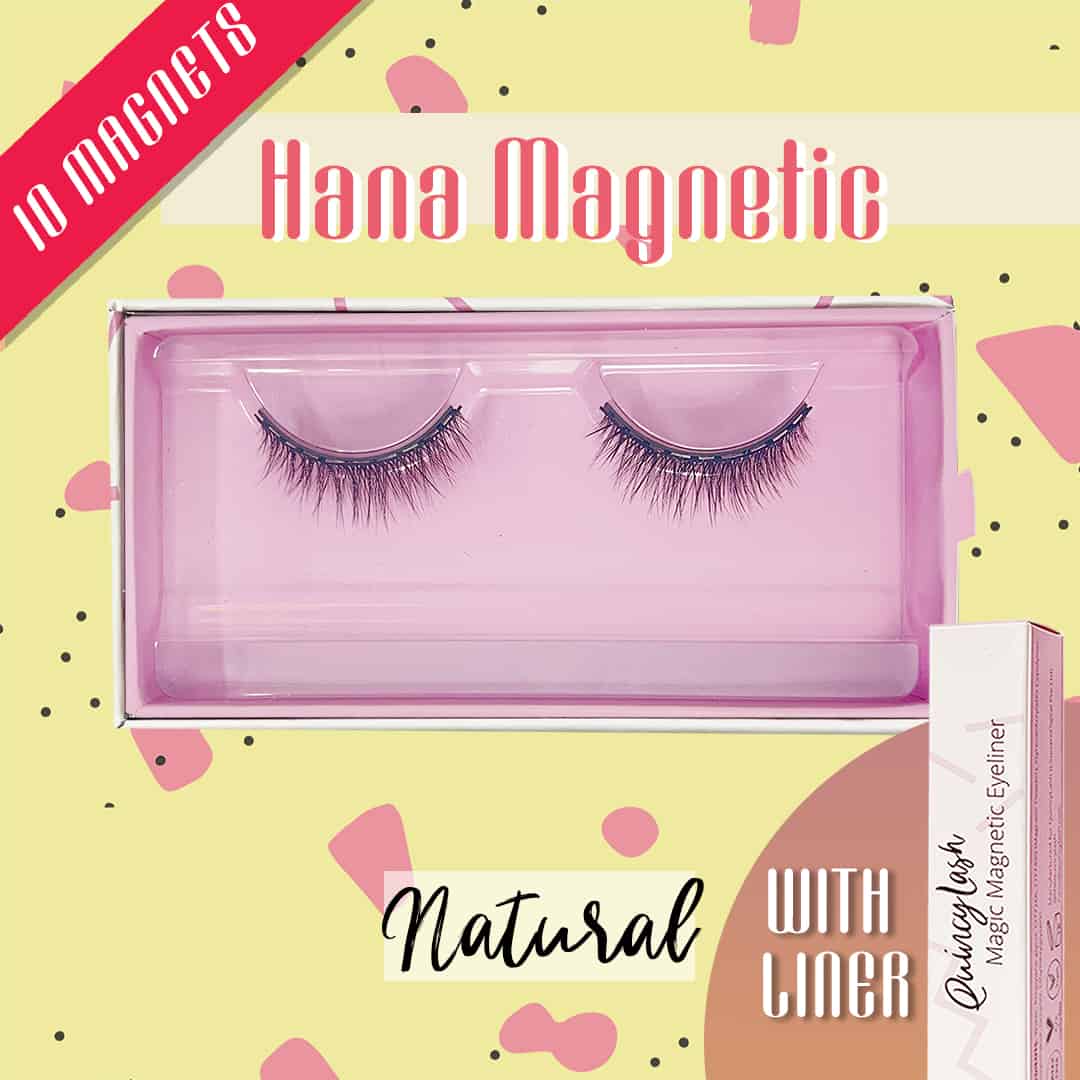 This product is rated 4.2 of 5.0 stars.
It has received 11 reviews.
Previously tried Quincylashes and I love it so much. Hana is very natural looking. Suitable to wear it with light makeup. I like it very much. One of my favourite design besides Cora!
Thank you so much Jessica ❤️ We appreciate the 5stars and for taking the time to write us a very positive review. We are so glad too that you loved our lashes. ❤️
Love the lashes. Makes my eyes bigger and brighter. Easy to wear. And great customers service. All queries answered spontaneously. And they even give advise on how to make lashes attached better to eyelid.
Hi Genevieve ❤️ Thank you so much for giving us such positive feedback, we appreciate your review and we're glad that you are happy with our product and with our service. ❤️
Hana Magnetic Lash
I love it! Its fuss free & easy to use. I tried the lash on my teenage daughter & she was like "Wow", even the face recognition function on her iPhone couldnt recognize her.
Hello Lily Chiang, WOW...it even fooled the face recognition function! :) :) Thank you so much for your feedback and pictures!
Beautiful lashes
Wow! Amazed with the easy step to put on the lashes. Doesn't require any skill.
Hello Serene, thank you for the review! We are glad that you love it! ❤️
Hello Jennifer, thank you so much for the review! We are glad that you love it!❤️